Please sign in so that we can notify you about a reply
This flat is specifially made for the Polish Tantal to work with the left side selector and right side safety. The hole for the selector/safety is a different shape and in a differen location than a standard AK receiver. If you want to use a standard 5.45 receiver with the Tantal kits you just need to use a standard AK selector lever.
Receiver flat thickness= 1mm (.040")

Material 4130 Annealed




Comes with bolt guide rails




Rails and flat need to be heat treated after bending

Reccomended rivets and center support (not included with flat)
Polish Tantal Rivet Set
1mm Center Support
To use these flats you will need to have a 5mm and 7mm reamer. The physics of bending sheet metal make it next to impossible to have a bend close to a hole without distorting. To solve this the holes on the flat are undersized and need to be reamed to size after bending. Look at the receiver flat instruction page to see more info.

The rails that will come with the flats are pictured below. They have mag stabilizers on both rails to keep the mag from tilting and causing feed problems. Before installing the rails you will need to trim the mag stabilizers to match the caliber of flat you are using.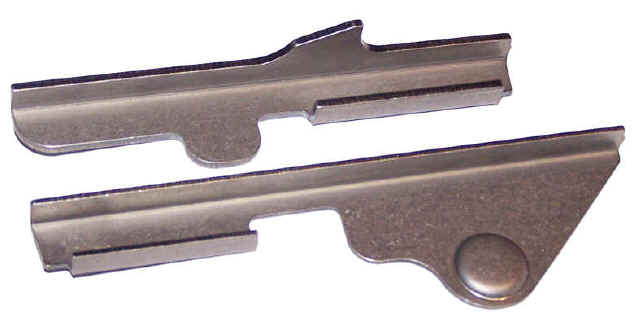 This item is made in the United States and counts as a 922r compliant part.
Premium Flat Options:
With Y & I Embossing